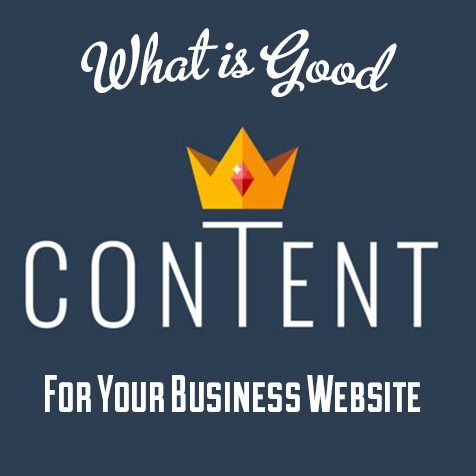 Sadly, this post needs to be written. Mostly, because people have come to the conclusion that "Likes" and "Shares" and "Clicks" and "Views" and all those other "metrics" of success are what is easy to measure.
There are only two things that matter: you can solve a customers problem, and they can find you quickly.
If you can solve their problem and they can find you- you should be able to make money and continue your business venture. Which brings us back to the question "What business are you in?" which is another question that most businesses should know- but many don't.
On the internet you are always a click away from your competition- and at the mercy of Google for generating you leads. That's why the "You gotta be on the first page of Google" is so important- because, you, me and everybody else usually picks their solution off the first page of Google.
Understanding how Google works is really critical, and it's one of the most important parts of our Websitetology Seminar. Anyone who tells you that they can get you organically (not paying for an ad)  to the front page of Google for X dollars per month is selling you crack. You'll get addicted- and while they may get you there for 10 search terms, doing your site right should get you hundreds of search terms. At least if you use WordPress as your Content Management System and fully understand what kind of content and how to post properly.
When it comes to content- think about what you search for. Usually it's to solve a problem- be it the "best price for business card printing in Dayton Ohio" which should take you to  The Next Wave Printing, where 500 4/c 2/s 16pt business cards can be had for $13.50 plus tax from your press ready files. On my search, we come up 7th- on the first page. Which is great, but, the likelihood of  us making a sale is kinda slim with all those other printers ahead of us.
As usual, the cobblers kids need new shoes, and we should optimize better, but here's the thing- we're not primarily in the printing business. We're an ad agency, that believes that much of the printing has become a commodity- and we're using low printing prices as a way to attract clients who need a great full service ad agency in Dayton Ohio.
The problem is, we just helped optimize the printing site for one term – "Best price for business card printing in Dayton Ohio" and you may have searched for "Cheap business card printing in Dayton Ohio." Where we come in 2nd. As you can guess- there are a ton of search terms to optimize for – and all have different results. So, optimize away, but the real key these days is referrals, and recommendations.
And if you didn't catch it, we're seamlessly and shamelessly posting referral links about another of our business sites in this post, with the hope you click on over. Building "link juice" or "google cred" is a part of the formula. Who links to you, how much traffic you get, how much traffic they get, is all analyzed as part of the algorithm that makes Google work. And remember, everyone gets different results from Google based on the personalized search history you've built.
People often will ask their friends via Linkedin or Facebook- who has the best prices on business card printing in Dayton Ohio- and they may or may not know anything about your business and say we used  "StupidCheapBusinessCards.com" for ours and they were fine. Nevermind Stupid Cheap prints on 100lb cover, charges $14,95 plus shipping.
This is where companies start making mistakes- going into social networks and telling everyone "We have the best prices on Business Cards in Dayton Ohio" when the discussion is about a tax levy. You become noise, irritating, obnoxious, and sometimes- blocked.
Making sure every business that uses you writes a review on Google Local, Facebook, LinkedIn or Yelp, Foursquare, Trip Advisor can help- some more than others, but, usually, the key is for your customers to spread the word for you. Making it easy to share the great value and service you provided is usually worth a lot more than just being at the top of Google.
Which brings us back to what is the best content for your site? It's useful posts that solve the customers problem- sometimes before they even realize they have one. Do you provide all your service manuals, instructions, ads, warranty information, repair and return policies, hours, locations, and anything else they may need to know in order to do business with you.
Do you offer tutorials, how to's and step-by-step content? You should.
We looked at a site today for a local diner to find the menu to order carryout lunch. The site greeted us "Coming this spring" (it's fall) and the "Menu" didn't have prices. Not good. There were no reviews (probably a good thing- we thought the bread was mediocre, the chips run of the mill and the sandwiches were soggy). We hadn't looked at reviews first, but, if any of our friends ask about this new place, we probably won't suggest it. We also believe it's much better to have people review you on your own site- instead of on one of those other sites, because you can address it easily (note- most of the review sites mentioned provide tools you can use to monitor and respond to reviews- make sure you claim your business.).
If you still have questions about what is good content- it solves your customers problem, and it's something that helps them find you. If you want a customized recommendation list for content generation, we're here to help, or you can take the Websitetology Seminar and learn the secrets of best posting policies and how all this fits together.